Sinus Lift Surgery: Making Upper Arch Dental Implants a Reality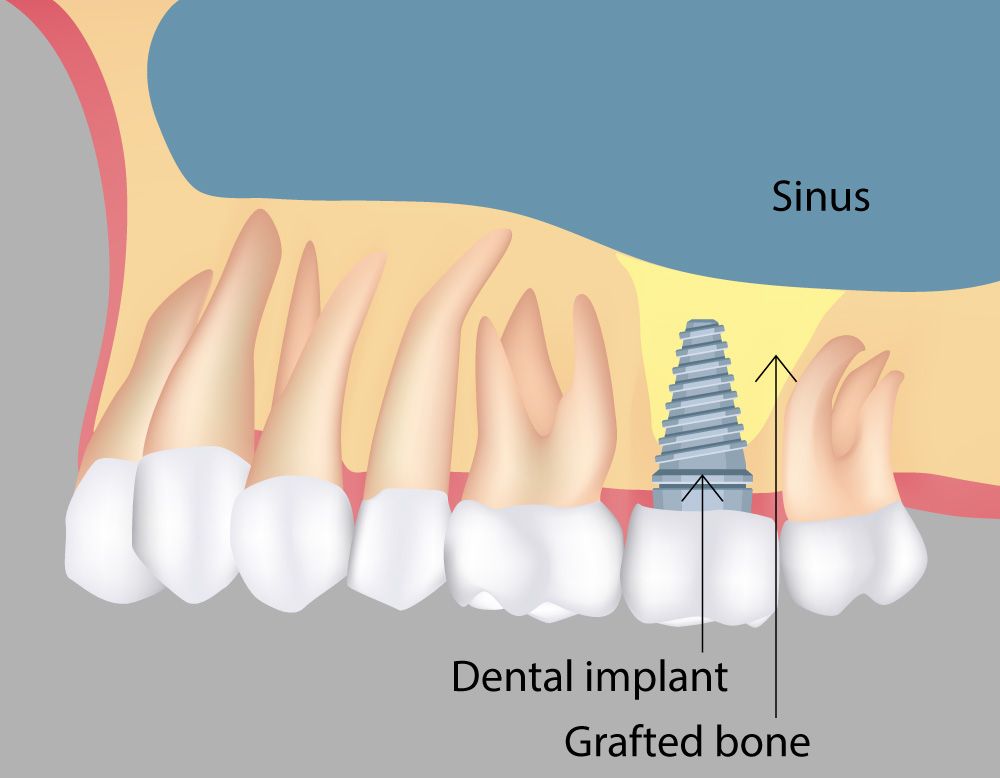 Dental implants have helped so many people smile with renewed confidence, These artificial tooth roots provide a level of stability and strength that is comparable to natural tooth roots. Dentures, bridges, and even individual artificial teeth can be anchored in place with dental implants.
Sometimes patients who come to our Nashville, TN practice would like dental implants but are poor candidates due to bone density and other structural or anatomical issues. That's where bone gifting techniques and other oral surgery options can help. With that in mind, let's explore the sinus lift and why it may be right for you.
Issues Placing Dental Implants on the Upper Dental Arch
Whenever a dental implant is placed on the upper row of teeth, dentists need to note the position of the sinus membrane. If the patient's sinus membrane is low and located near the bone structure of the upper dental arch, placing a dental implant can be challenging. There's a risk that there will not be sufficient bone to support the implant, resulting in a failure of treatment.
What Is a Sinus Lift?
A sinus lift is a type of bone grafting procedure designed to address the issue noted above. Through a sinus lift, an oral surgeon can reposition the sinus membrane, build out the bone structure in the upper jawbone, and place a dental implant without risk of failure.
Ideal Candidates for Sinus Lift
Good candidates for a sinus lift are people who would like to get dental implants along their upper dental arch but experience issues with the position of the sinus membrane. They should be in good overall health and not suffer from any conditions that would make this oral surgery procedure a risky endeavor that impacts general wellness.
The Sinus Lift Procedure
Patients are given local anesthetic as well as sedation in order to reduce anxiety and pain.
The oral surgeon makes incisions along the gum tissue to expose the jaw bone. The jawbone is then drilled/opened to expose the hollow area of the sinus membrane. Bone grafting materials are placed into this upper arch cavity. The jawbone is then sealed and the gum tissue sutured, allowing patients to heal.
Patient Recovery and Proper Healing
Pain, swelling, bruising, and sensitivity are all common side effects following this oral surgery procedure. Pain medication, proper oral hygiene, the use of cold compresses, and a soft food diet will help patients address potential side effects in the first weeks of recovery.
Full healing is only achieved when the bone grafting material merges with the bone structure of the jaw, creating proper hard tissue density in the process.
Proceeding with Implant Dentistry
The implant dentistry process can continue once there is sufficient hard tissue where there used to be the sinus membrane. Oral surgeons are cautious not to move forward with the implant dentistry process until they know the bone graft has done its job.
How Long Will This Entire Process Take?
Healing from this bone graft procedure can take several months; the ensuing dental implants process can also require several months of healing.
While the exact treatment times vary from patient to patient, you should be aware that this requires far more of a time commitment than simply getting removable dentures or bridges. Yet given all of the advantages of dental implants, many patients who go through the process believe it was worth the wait.
Learn More About Advanced Dental Care
For more information about dental implants and whether or not they are ideal for you, be sure to contact Gulch Dental Studio. We look forward to your visit and discussing these issues in much greater detail in person.
Related to This