Nitrous Oxide Sedation: A Trusted Method for Helping Patients Relax
Nitrous oxide sedation, commonly known as laughing gas, is a mild form of sedation that is administered using a mask and is controlled by the doctor throughout your procedure. This form of sedation has long been a trusted method for helping patients relax. Nitrous oxide sedation is often recommended at Gulch Dental Studio for our Nashville, TN, patients who suffer from dental phobia or other conditions that may interfere with the effectiveness of their dental treatment.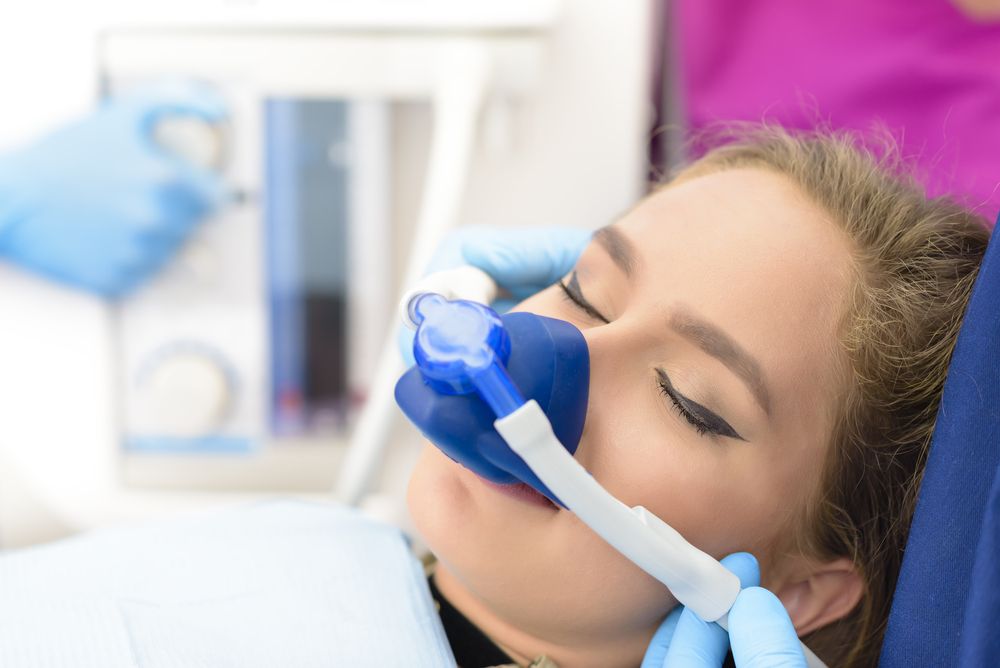 How Is Nitrous Oxide Administered?
Nitrous oxide is a breathable gas that is mixed with oxygen and administered through a mask that fits over your nose. The mask delivers the gas directly into your airways. Patients simply need to relax and breathe through their nose as they naturally would.
Understanding Nitrous Oxide
Of the three sedation options available in dentistry (nitrous oxide, oral sedation, and IV sedation), nitrous oxide is generally considered to be the mildest method. Patients are awake and responsive, but in a relaxed and sometimes euphoric mental state such that they are not fully aware of what is happening during their procedure.
Nitrous oxide sedation takes effect quickly, has a fast recovery, and is very safe.
The gas suppresses most forms of sensation, particularly hearing, touch, and pain. Once the mask is removed, patients quickly become clear-headed again with no adverse side effects. Since nitrous oxide is well-tolerated, works quickly, is reversible, and adjustable, it is considered a safe form of sedation for dentistry purposes.
Advantages of Nitrous Oxide
Nitrous oxide is widely used as a dental sedation therapy for its many advantages:
Fast-acting: Nitrous oxide takes effect about 2 to 3 minutes after administered.
Extremely safe: There are very few side effects and the gas has no adverse effects on major organs.
Easily adjustable: The level of sedation can be adjusted for each patient.
Quick recovery: The effects are eliminated from your system within five minutes, allowing you to safely drive home or return to work.
Disadvantages of Nitrous Oxide
Although nitrous oxide is very safe and suitable for most patients, it does come with a few possible side effects, such as nausea, discomfort, and headaches. Some patients feel that the gas does not achieve a deep enough level of sedation by itself. Also, patients who have trouble breathing through their nose, whether due to a structural problem or sinus congestion, may not be able to breathe in enough of the gas to become adequately sedated.
Receive the Treatment You Need
If dental phobia has been stopping you from receiving oral health treatments and checkups, nitrous oxide may be the tool you need to relax in the dentist's chair. Find out if nitrous oxide or one of the other sedation dentistry options at Gulch Dental Studio can help your situation by sending us a message.