Are you unsure how to address the multiple dental concerns you want to fix?
A smile makeover combines various cosmetic dentistry procedures to craft a smile that's perfect for you.
At Gulch Dental Studio, we offer personalized smile makeover plans to meet every need of our Nashville, TN, patients.
What Is a Smile Makeover?
A smile makeover aims to improve the aesthetics of your gums and teeth by combining various dental procedures. Patients should have good oral health going into the smile makeover treatment plan, as the goal is not to improve the health and function of your teeth but to improve how your smile looks.
Benefits of a Smile Makeover
Faster Treatment
A smile makeover allows you to get your dream smile in fewer office appointments. We can combine multiple procedures into one appointment so you can spend less time in our office.
Personalized to You
Our team doesn't believe in cookie-cutter dentistry. Your smile makeover is customized to meet your exact needs. Our team takes the time to get to know your unique goals and needs to figure out what will work best for you.
Dramatic Results
A smile makeover gives you a brand new smile you can feel good about showing off. Since multiple concerns will be addressed simultaneously, dramatic results can be expected.
A Stunning Transformation
Of a Nashville Patient's Smile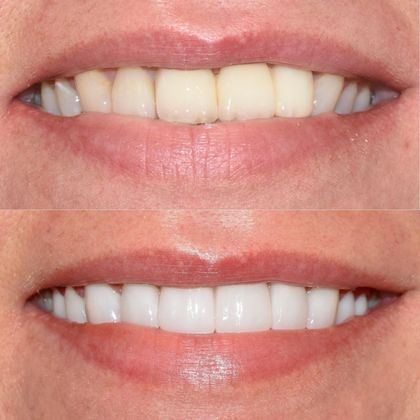 For this patient, veneers were able to conceal various dental imperfections, including discoloration. Teeth whitening isn't needed to maintain a bright smile with veneers since the shells are stain-resistant.
We Also Offer
BOTOX Injections
We can also add BOTOX® Cosmetic injections to your smile makeover. BOTOX can relax your upper lip to limit the appearance of your gums when you smile.
Nashville, TN, Patients
Choose Our Cosmetic Dentists
Friendly staff, efficient service, and overall great experience. Appreciate the appointment reminders as well!
View on Google
I could not have been treated better. I appreciate the team at Gulch Dental for seeing me and taking care of me.
View on Google