Do you have broken, chipped, or missing teeth?
At Gulch Dental Studio, our dental crowns restore function and appearance. Used with dental implants, they can even replace lost teeth.
So what makes a dental crown a good treatment option for many patients at our Nashville, TN, dental office?
The Benefits
of Our Metal-Free Cosmetic Crowns
Preserve Your Tooth
A dental crown is a cap that covers the visible portion of a tooth, reinforcing and preserving its structure. This means we can restore a damaged tooth to normal function so that you can eat and chew comfortably again.
Create Lasting Benefits
At Gulch Dental Studio in Nashville, TN, we work with a dental lab that exclusively uses high-quality, porcelain-like materials, such as IPS e.max® and IPS Empress®. With proper care, a dental crown can last up to 10 years before it requires replacement.
Enjoy Natural-Looking Results
Your custom crown will also be specially matched to the natural shade of your smile so that it blends in for a natural-looking appearance and fit.
Same-Day Crowns
with Advanced CEREC Technology
At Gulch Dental Studio, we offer both traditional and same-day crowns. If your doctor determines you qualify for this type of crown, we can use our in-office milling machine to craft the restoration while you wait. The entire system offers a range of benefits:
No temporary crown
No need for a second visit
Digital impressions
Precise customization
Natural-Looking Materials
For Beautiful Results
Many people equate dental crowns with silver or other metals. Our practice uses metal-free materials such as IPS e.max®. IPS e.max is a ceramic material, much like porcelain, and provides more natural-looking results than silver or gold. Because it is metal-free, it is a great option for patients with metal sensitivities or allergies. IPS e.max is also durable and often more affordable than other materials.
Take a look
at how crowns are placed
Concerned about how long your crown will last?
Dental Crowns Can Provide Years of Support
Are Dental Crowns Right for You?
Contact Us Today & Learn More
At Gulch Dental Studio in Nashville, TN, our dentists and their team have a reputation for providing modern, comfortable dentistry. For patients with a severely damaged tooth or a missing tooth, we provide advanced, custom-made dental crowns.
We work with the finest dental labs that use state-of-the-art, porcelain-like materials, so our crowns blend seamlessly with your natural teeth. If you think dental crowns could be the right solution for you, we encourage you to schedule a consultation at our office in the Gulch today.
To schedule a consultation, please fill out our online form or call
Patient Testimonials
Read Our 5-Star Reviews
The staff is amazing! The studio is clean, modern, and relaxing! Dr. Harris did a great job on the crown I needed to get done. I have terrible dental anxiety and Dr. Harris and his team made sure I was taken care of and relaxed! Highly recommend! I will continue to use them and recommend everyone I know! It's hard to find a great dentist, I did and I will be back because I trust my smile in the hands of the Gulch Dental Studio team!

View On Google
I had a wonderful experience! I relocated to Nashville and scheduled an appointment after reading so many positive reviews. The office and staff were amazing and welcoming, parking was easy, and it was the best dental cleaning I've ever had.

View On Google
Restorative and Cosmetic Dentistry
Dual Functions of Crowns
A traditional crown is a good restorative option for people whose teeth are too damaged by decay or injury for a simple filling, but do not require an extraction. One of the most common restorative uses of crowns is to protect a tooth after root canal treatment. Our Nashville dentists can also use dental crowns to restore missing teeth by attaching the porcelain restoration to a dental bridge or implant.
Although crowns are usually used for restorative purposes, they can also be placed on stained, worn, or small teeth for a natural-looking cosmetic enhancement. Our dentists are renowned for their skill in cosmetic dentistry, and they enjoy the artistry involved in crafting symmetrical, healthy-looking smiles. Crowns are just one of the tools they use to create cosmetic enhancements, in addition to porcelain veneers, teeth whitening, and more.
Insurance May Cover Your Treatment

Dental insurance often helps pay for the cost of treatment if you are getting a dental crown for health purposes. Our Nashville practice accepts a wide range of insurance plans and will work directly with your provider to get you the most coverage. For patients without dental insurance or to help with costs not covered by insurance, we also offer CareCredit® to help finance the cost of your treatment. You can learn more about our financing and insurance policies on our website.
But do you qualify for this type of restoration?
Dental Crown Candidacy Considerations
Sufficient Tooth Structure
In order for a traditional crown to successfully restore your smile, there must be at least one-third of the affected tooth intact. Your doctor will need to gently reshape the tooth before placing the dental restoration.
Special Requirements for Implants
If you have a single missing tooth, an implant-supported crown can restore the appearance and function of your smile. However, dental implants have a unique set of requirements. Our dentists can determine if you qualify for implant dentistry and coordinate your treatment with a skilled oral surgeon.
Implant-Supported Crowns or Bridges?
Which Option Is Right For Me
If you are missing a tooth, our Nashville practice offers a couple of different options to restore your smile. The first option is a traditional dental bridge. A bridge consists of a prosthetic tooth sandwiched between two traditional dental crowns. The crowns are placed over the natural teeth adjacent to the gap to hold the prosthetic in place.
The second option is replacing the tooth with an implant-supported crown. Unlike a dental bridge, an implant replaces the missing tooth root and protects against serious oral health problems. The dental implant supports a custom crown with maximum stability so the replacement looks, feels, and functions just like your natural teeth.

If you are wondering which solution is right for you, schedule a consultation at our Nashville practice today.

Have you been putting off a visit to the dentist?
A Comfortable, Chic Boutique
Experience the Gulch Dental Studio Difference
We know that many patients perceive a trip to the dentist as cold, clinical, and even scary.
But our office is modern, comfortable, luxurious, and warm. We want every patient to feel at home, so we maintain a relaxing environment that feels more like a spa than a dentist's office.
If you suffer from dental anxiety, we also offer various methods of sedation dentistry, including:
Nitrous oxide
Oral conscious sedation
Intravenous (IV) sedation
General anesthesia
Ready to Take the Next Steps?
Request your consultation today.
Living with a damaged or decayed tooth can affect your oral health and lead to further complications if left untreated. We offer a wide variety of treatments so you can get the care you need in one convenient location.
We understand that dental treatments can be a bit overwhelming, but we are here to guide you every step of the way. Each patient is treated as an individual, and our dentists take the time to listen to you to address your needs and concerns. Call our Nashville dental practice or contact us online to request your initial consultation today.
"You Couldn't Find a Better Dental Team"
Had my first cleaning here had a great experience, Sydney was very gentle but thorough. The staff and the Dr are all super cool. Also I was able to actually get an appointment within a week or so, some other dentists were booked out for 3 months+ Recommended
View on Google
The team at Gulch Dental Studio wonderful. They take great care of their patients and ensure that all their needs are met. They do all they can to make sure you're comfortable and that you understand any procedures you might need to have. You couldn't find a better dental team to serve your needs.
View on Google
Need more reasons to choose Gulch Dental Studio for your dental crown procedure?
State-of-the-Art Materials and Techniques
Our dentists offer lifelike metal-free dental crowns that seamlessly blend with your surrounding teeth so you can be confident when you smile. We also coordinate with an implant dentist to provide implant-supported crowns and replace missing teeth.
At Gulch Dental Studio in Nashville, TN, we go the extra mile to ensure your comfort and convenience. Our office is equipped with all the most modern restorative technology available in dentistry, and we will always prioritize your individual needs and goals. During your first visit, we will review the various types of dental crowns, as well as the advantages and disadvantages of all-ceramic crowns, to help you feel fully informed.
How Are Dental Crowns Placed?
A Treatment Timeline
The process of receiving a dental crown generally takes two office visits. Most patients can expect a treatment timeline that goes something like this...
We offer sedation to keep you calm and comfortable throughout your visit.
Get Started by Requesting an Appointment
"Very Professional and Extremely Pleasant"
The staff of Gulch Dental Studio were very professional and extremely pleasant. Best customer service I have experienced in a medical practice.

View On Google
I love my dentist so much!!!! I finally found a new home after all these years! They took care of me so well. I had a root canal no pain. I pray that this dentistry goes very far! God bless everyone there!!! —Kanthia Lewis

View On Google
Six dental crowns were placed over this patient's front teeth to create a whiter, more even smile.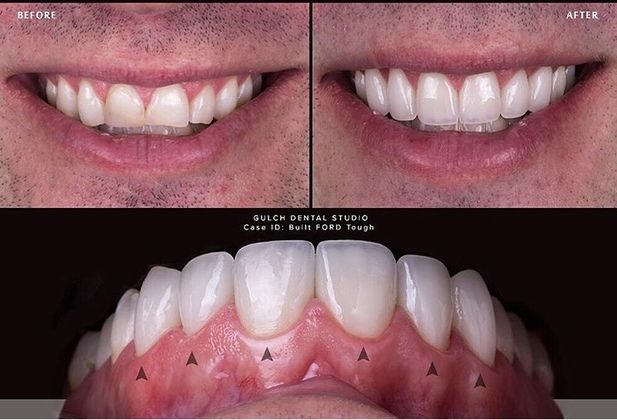 Maintaining Your Dental Crown

Taking care of your dental crown is fairly easy. For the most part, you should treat your restoration like you would your natural tooth. However, to ensure your crown lasts for as long as possible, we recommend following these simple instructions:
Practice Good Oral Hygiene
The best way to maintain your crown and your natural teeth is to practice good oral hygiene. Brush your teeth with a soft-bristled toothbrush at least twice a day and floss at least once a day.
Be Careful What You Chew
While our ceramic and IPS e.max crowns are highly durable, they can still crack under pressure. Refrain from biting down on anything extremely hard or sticky like ice cubes or toffee to prevent unwanted damage.
Visit the Dentist
You should attend a check-up twice a year at our Nashville practice to have your teeth professionally examined and cleaned. At this time your dentist will inspect your dental crown and make sure it is in good shape.
Hear From More Satisfied Nashville Patients
So where do I start, I fly in from houston to visit nashville. Eat some hard food and find that my crown falls off. I tried to cement it back, a no go. Called 12 dentists, yes 12 .. all gave me the run around, not helpful. Just when I was about to give up, I call these fine people as a last ditch effort.. and wow!! Nice person answer phone, listens to me.. shows empathy and begins to tell me what they can do for me. Office managers please model yourself after this.. empathy + assurance it goes a long way. They fit me in on a short day (friday).. I walk in, they got to work quickly, with precision. I was in and out in 45 min. World class service, wish they were in my home town. The receptionist wonderful smile and friendly. Doctor professional, assistant professional… highly recommend!
View on Google
Great dentist. Awesome staff and professional atmosphere. Very nice and detailed in work & explaining anything that needed to be addressed! Also took care or me while they were taking care of my fiancé. Was very impressive! They have earned my loyalty as a patient and look forward to the next time I go there ! Highly recommend Dr Scott Harris & his staff!
View on Google